VAT and Shipping will be calculated at Checkout.
For orders from outside the EU, the prices do not include VAT.
From 2 Heatles only €225 each (-24€)
Individual sets have a delivery time until October. You can find immediately available starter sets HERE .
Individualisierte Heatle Sets werden nach Kundenwunsch produziert und in spätestens 10 Wochen zugestellt.
1x Heatle induction plate
1x Heatle rod with temperature sensor
1x Magnetic heating disc (45mm)
1x Storage for heating disc
Highlights

Temperature range: 30-100°C
Individual presets
Upgradable via Heatle Mobile App*
For vessels with a bottom thickness of 2mm-35mm**
Heating capacity: 50-1000ml***

Dimensions

Heatle diameter: 188mm
Heatle height: 70mm
Stem length: 260mm
Heating disc diameter: 45mm
Weight: 2kg without accessories/packaging

Connectivity

Frequency range: ISM 2.4GHz BlueTooth Smart (BLE)

Power

Maximum power: 2,000 watts
Voltage: 220-240V
Plug type depends on the delivery address (DE, CH, and UK plugs available)

Materials

Housing: Polycarbonate
Button: Solid oak wood from the EU, oiled
Stem: Stainless steel with polycarbonate handle
Disc: Stainless steel
Tray: Tritan
Product and shipping packaging: Corrugated cardboard (FSC certified)
User manual: Recycled paper (FSC certified, Blue Angel)

Please note
* iOS & Android App release in 2023
** Due to induction, the heating process is faster with a thinner bottom or a larger heating disc
*** Maximum depends on the thickness of the vessel's bottom and the size of the disc used
We offer a 100% money-back guarantee while you wait for your Heatle.

Refunds will be made within 30 days in the same way you paid.
Sustainability & Donation

Your Heatle is made from sustainable, ecological materials and can be repaired and recycled by us.

For every Heatle sold, we also donate an amount to our partner Eden Reforestation Projects to plant trees and fight poverty.

So, by placing your order, you're not only saving electricity and time but also helping us make the world a more sustainable place.
Heat liquids conveniently, precisely and save energy.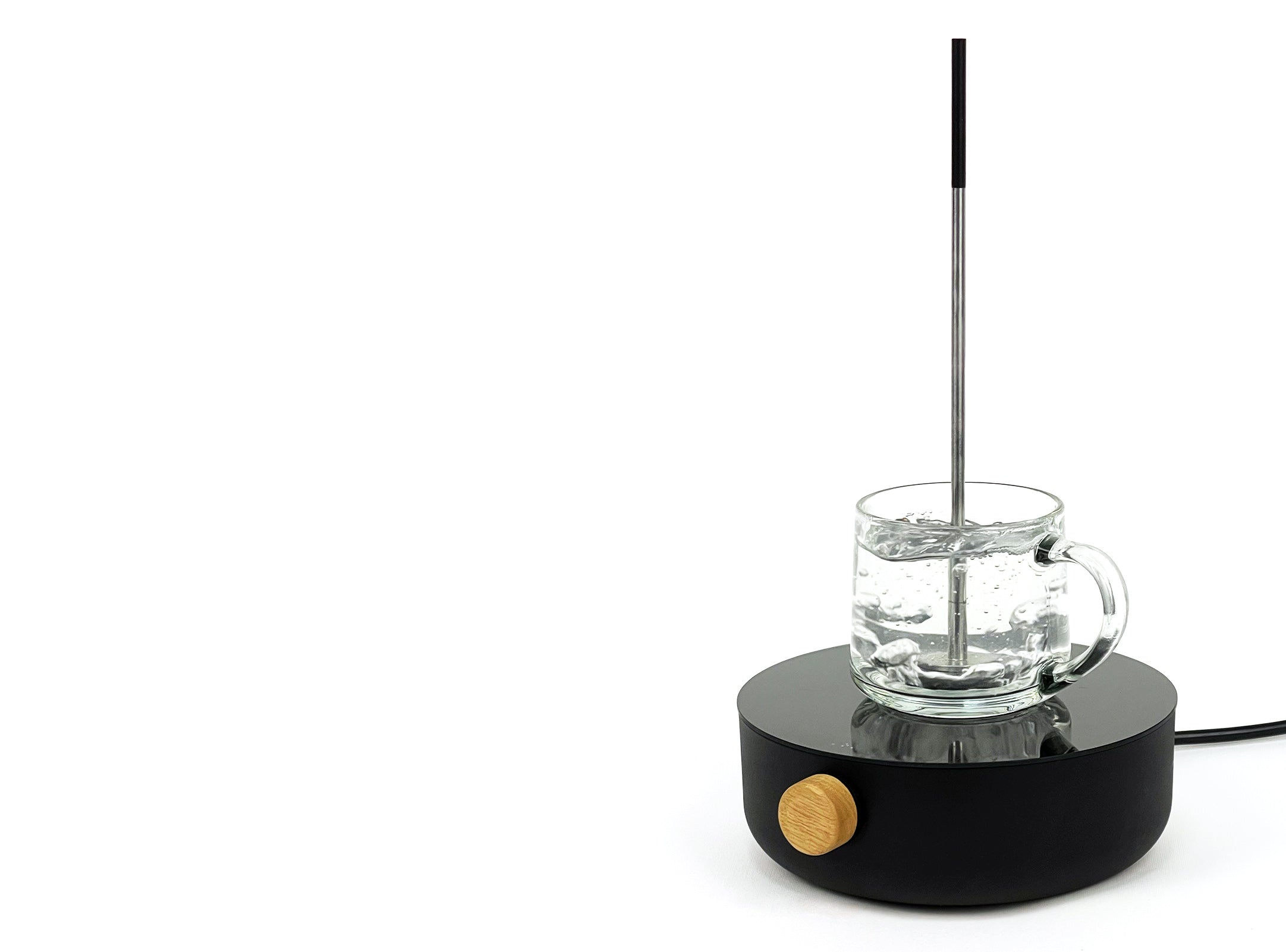 Real oak wood
The high-quality control knob of the Heatle is made of sustainable, European oak wood (solid, multi-oiled), is an absolute eye-catcher and radiates warmth and serenity. Each Heatle is thus as unique as its owner.
Smart Rod
Heat-resistant handle with integrated LED (operating light) and built-in BLE antenna for wireless transmission of temperature.
Powerful and compact
The world's smallest induction hob with up to 2,000 watts of power. High-quality, matt surface without cast seams (dividing lines) in black and white.
Temperature sensor
The bar contains patented electronics that work completely without batteries. The sensor measures the temperature inside the vessel and transmits it wirelessly to the base. There is only stainless steel in the drink.
Pure white LED matrix
Easy, intuitive menu navigation thanks to high-quality LED dot matrix (display) in a modern, unobtrusive style.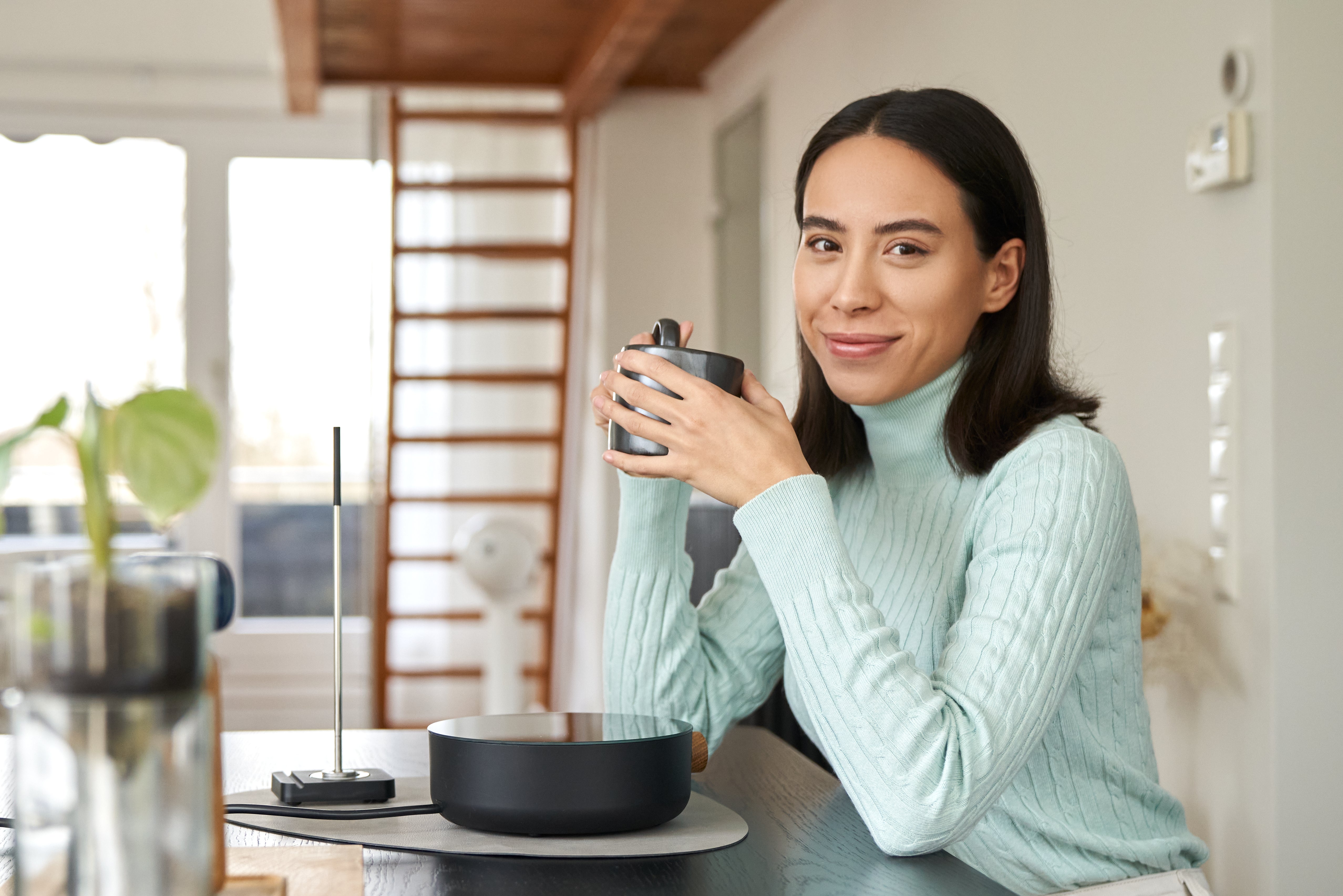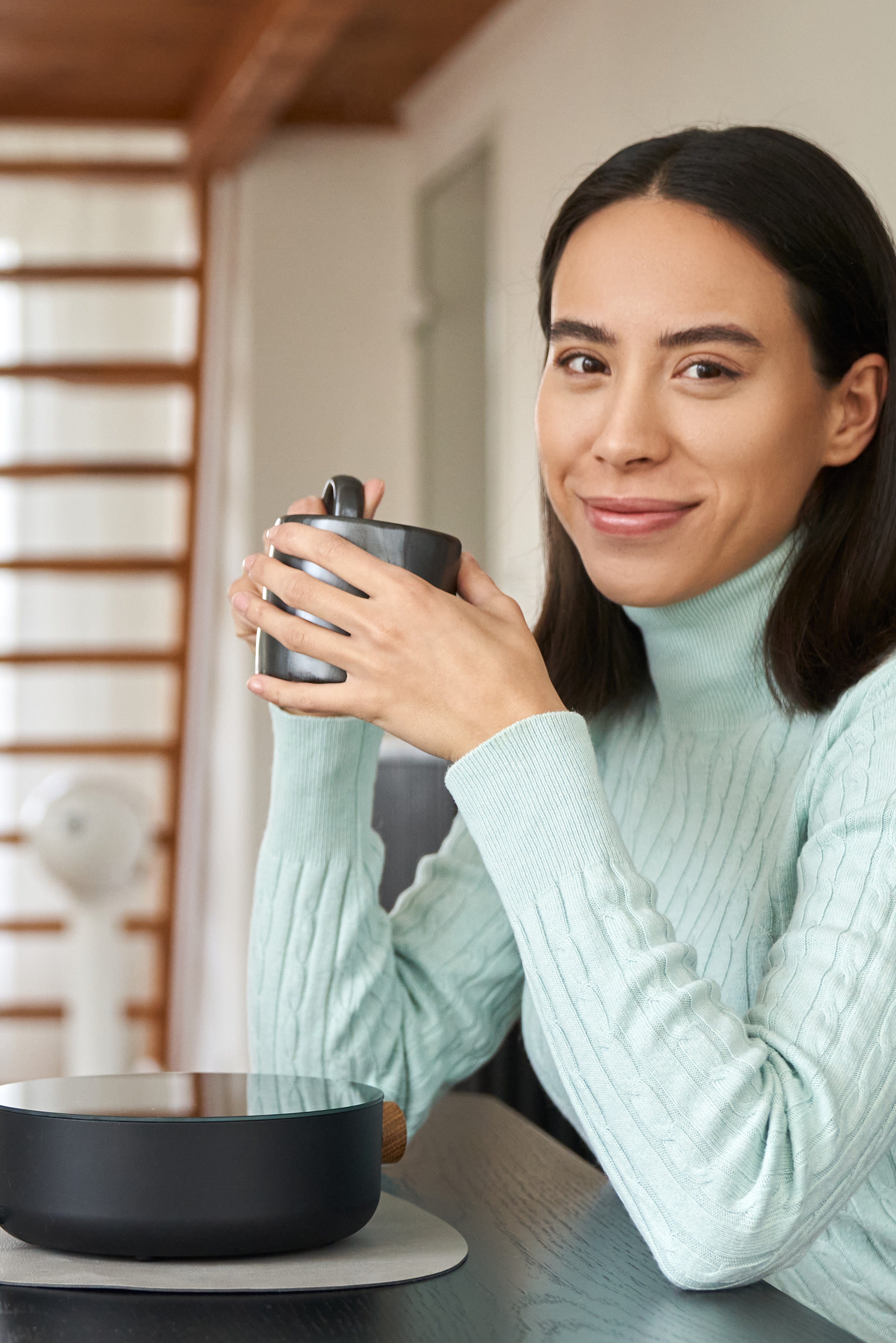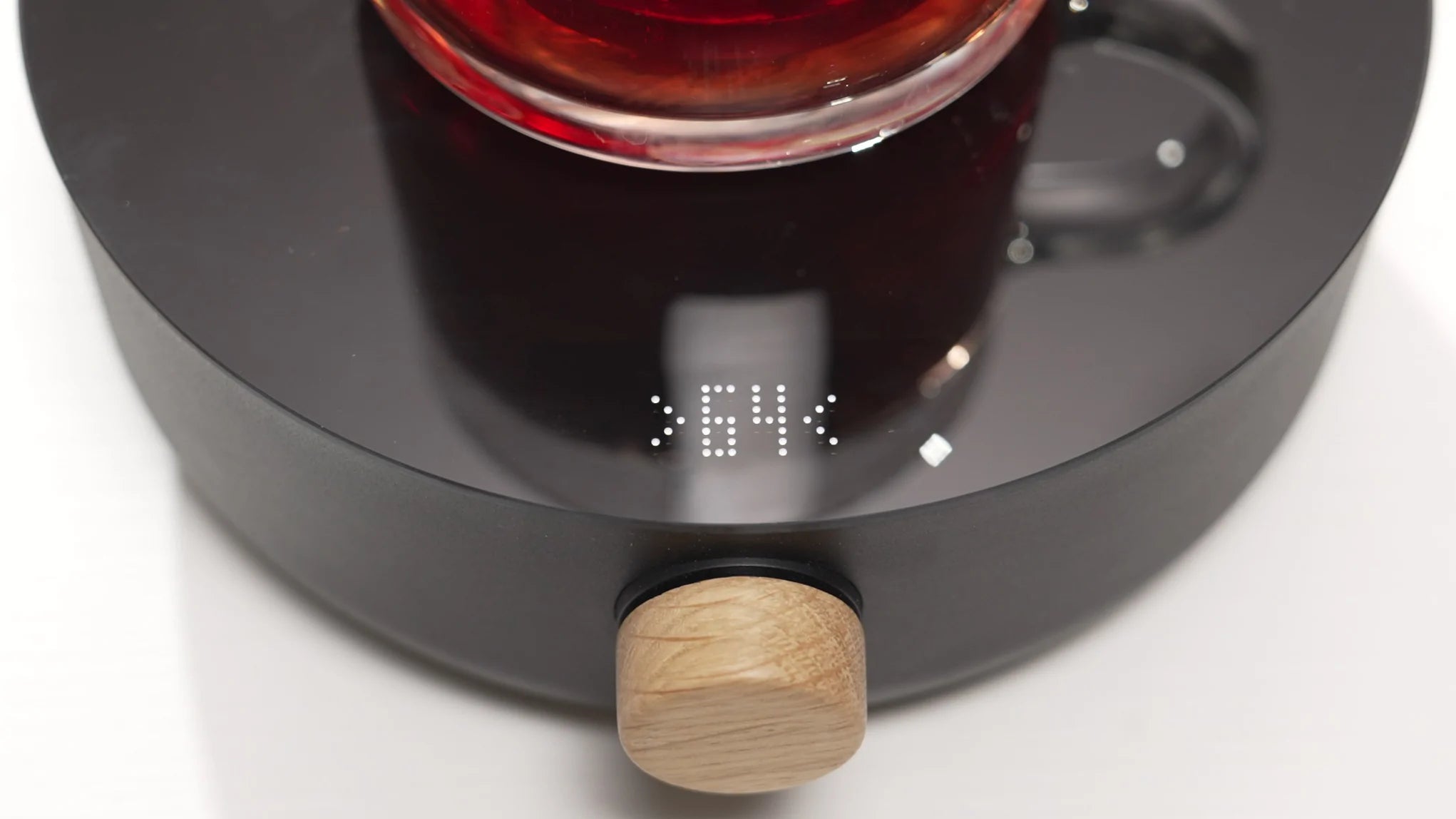 Just your temperature
What's the point of having an "exact temperature" in a kettle if you're going to transfer the water anyway?
Save yourself 10-15% of energy right away. Your Heatle measures the temperature directly in the vessel and automatically stops when it's reached.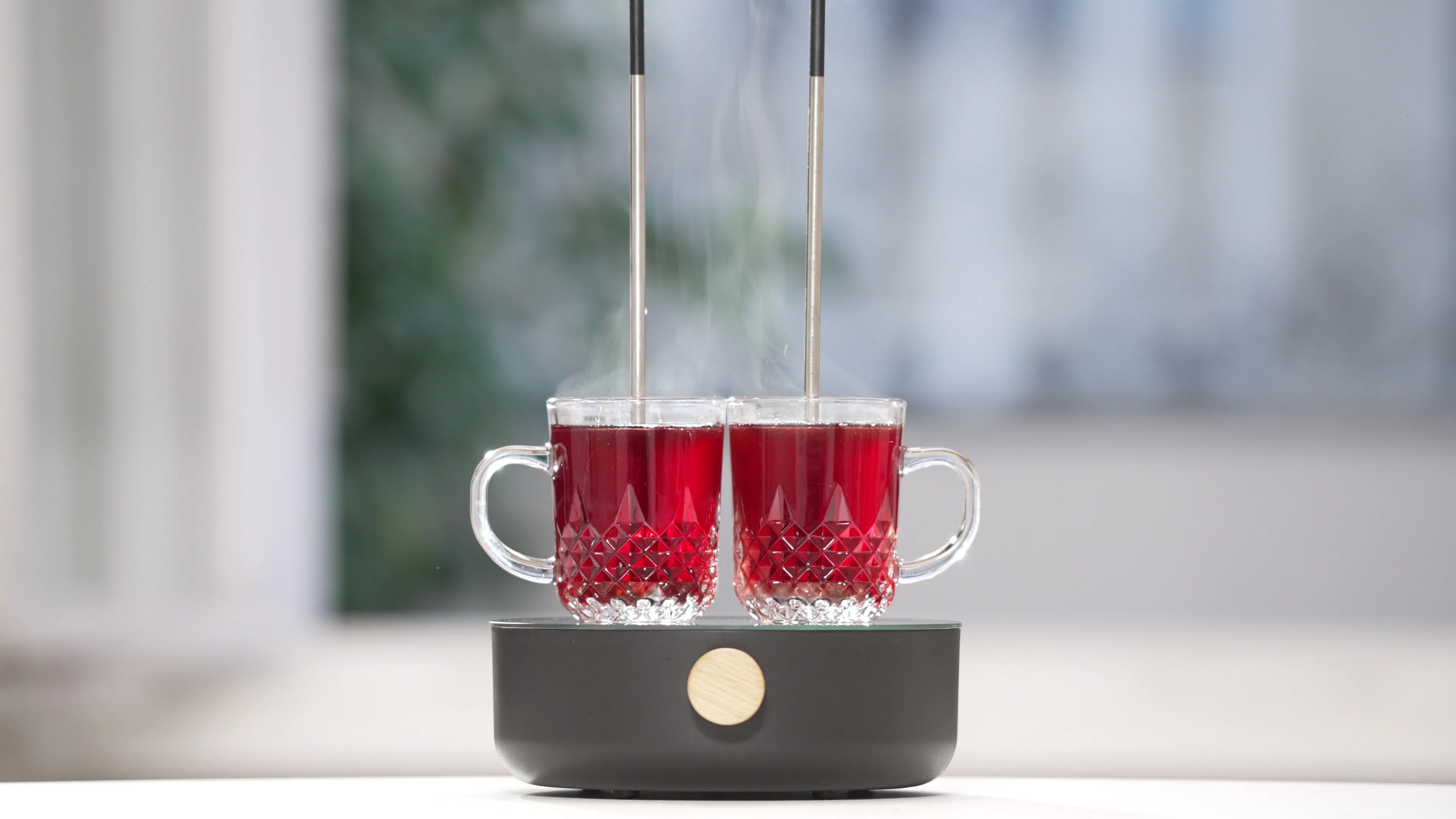 Partner-Mode: on
In Duo mode and with two Heatle rods, you simply heat two cups (same liquid and quantity) simultaneously - without a teapot.
Exactly what you need
Forget about the minimum filling quantities of kettles. Or that you heat significantly more water so that the limescale doesn't slosh into your cup.
With the Heatle, you finally heat only the amount you need - from babies to the whole family. For larger quantities and vessels, we recommend our extra-large heating disc.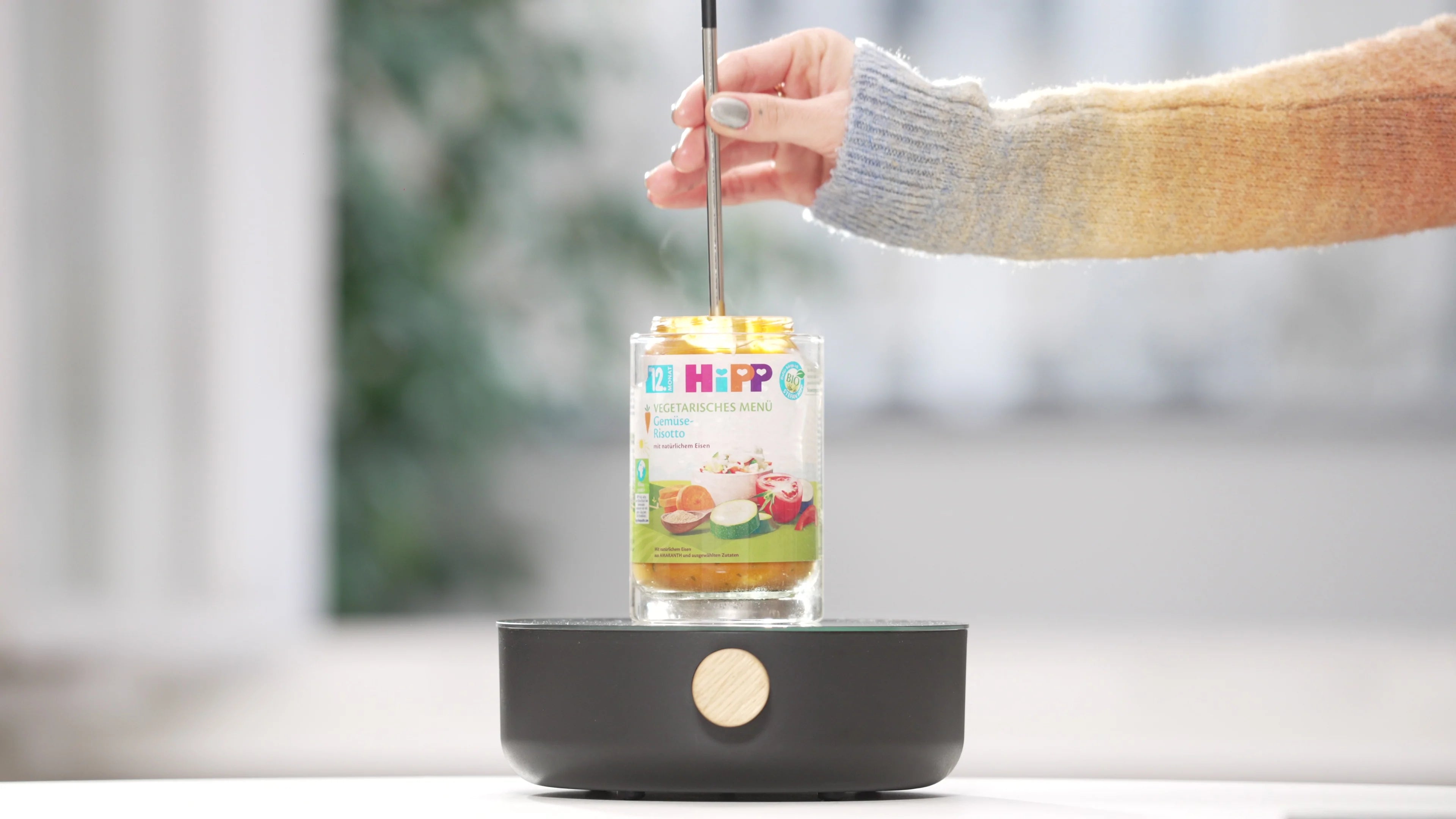 Smart & versatile
Some things should not be heated directly with a heating element. Even if it's delicious.
With Heatle, that will soon work, too. Then you can heat baby food, chocolate coating and everything that needs indirect heating and should be at the right temperature.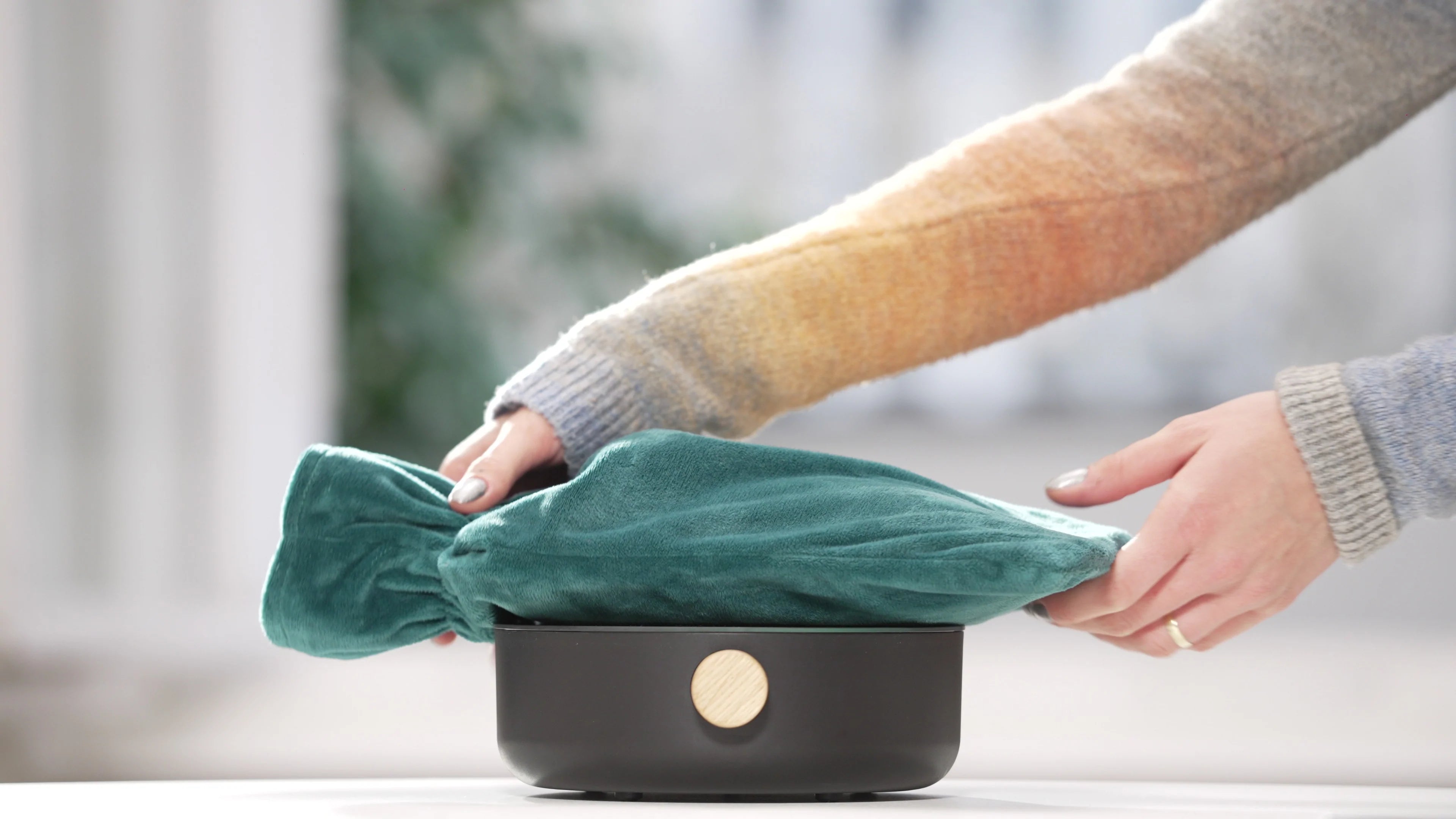 And there is so much more
Drinks are just the beginning.
Look forward to countless extensions such as mocha cookers, hot water bottles, egg cookers and an app with even easier settings for your Heatle.
We love our Heatle. It hardly takes up any space in our small kitchen and looks fantastic.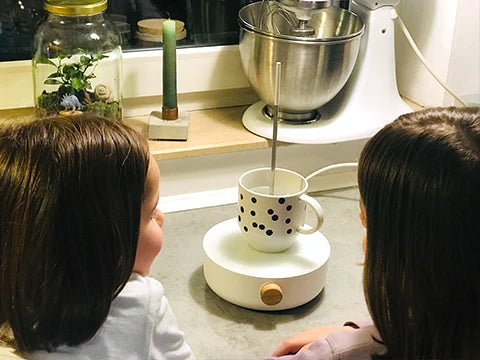 Manuel
NRW
Heatle is what I was missing so much in the home office. Heat, keep warm, enjoy. Thank you!!!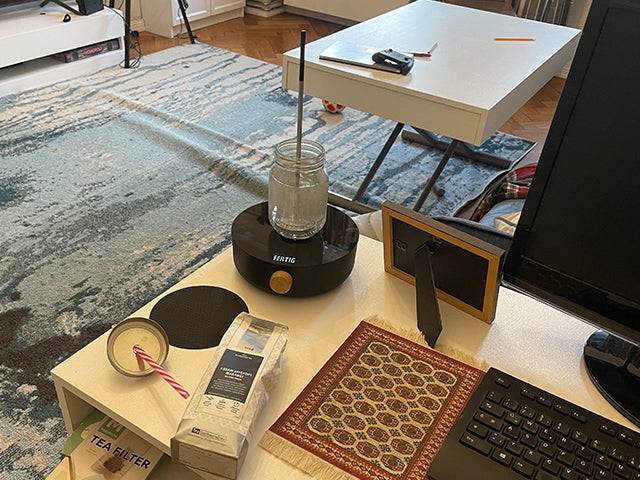 Zeeshan
Hessen
I love to use it on the terrace. And when the tea cools down - poof, I warm it up again. Top!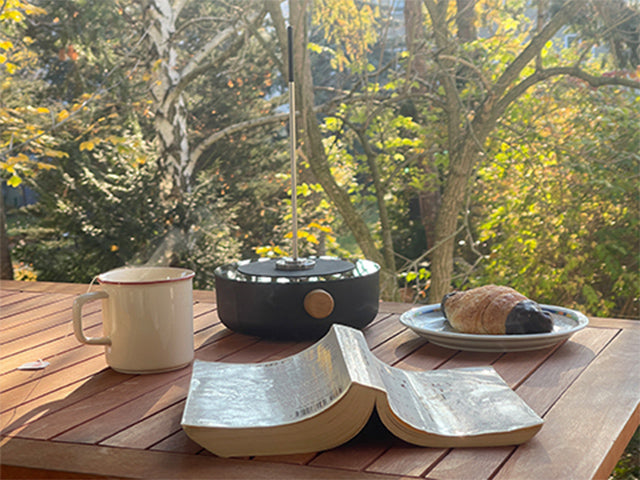 Heiko
Berlin
Such a useful invention. Great that you have implemented it. Keep it up, we love our Heatle!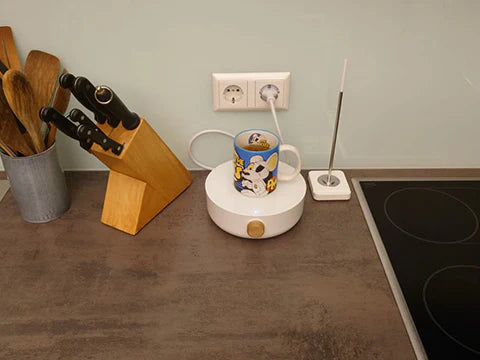 Britta
Berlin
I am in a wheelchair and Heatle has improved my life enormously. I never scald myself on the kettle anymore.
Rebekah
England
How does the °C display on a traditional kettle help me when I drink from the cup? Heatle is just awesome.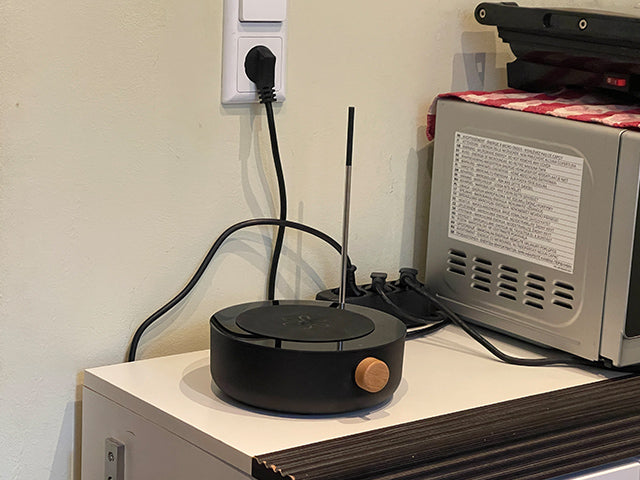 Hakim
Frankreich
Delivery times and regions

The earlier you order in advance, the earlier you get your delivery. We deliver chronologically. All components are already in stock and production will continue seamlessly until September.
Payment and Money Back Guarantee

Du musst beim Vorverkauf das Gerät zum Vorzugspreis komplett bezahlen, um einen Heatle zu bestellen. Nur so können wir die Rohstoffe bestellen und die Produktion finanzieren. Bis die Produktion deines Heatles begonnen hat, erstatten wir dir den Betrag jederzeit und kurzfristig wieder - du kannst also problemlos und formlos stornieren. Damit gibst du deinen Platz in der Charge frei und jemand anderes freut sich darüber, den Heatle mehrere Monate früher (und günstiger) zu bekommen. Natürlich kannst du das Gerät unbenutzt und originalverpackt nach Erhalt innerhalb von 14 Tagen gemäß gesetzlichen Richtlinien zurücksenden und bekommst den vollen Betrag umgehend erstattet.
Properties, dimensions, material, weight...

Please check the up-to-date product description in the Shop.
Why is Heatle efficient and sustainable?

There are many reasons, but here are the main ones:

1. You only heat the amount you need, instead of 2-3x as much as in the kettle, where you choose the cup later. Many also do it so that the nasty limescale deposits don't flow into the cup. Either way, the classic kettle isn't designed for the modern demographic.

2. Especially with small amounts, Heatle is super efficient, while kettles waste 40-60% of the energy.

3. You get the temperature you need - in the vessel and not in the pot or kettle. If you have 100°C in the kettle, only about 80°C will arrive in the cup.

4. You have one multi-liquid maker, baby milk and soon eggs, sous vide and more. This saves us tons of e-waste and, of course, space in the kitchen.

5. Heatle is repairable and recyclable. And of such high quality that it is also worth fixing it instead of throwing it away.

6. Heatle is packaged plastic-free and recyclable and will be shipped without an extra outer box.
Which liquids and vessels work?

Use cases we tested: water (tea, baby food), milk (including vegan milk), infant and breast milk, cocoa, mulled wine, light soup (like bouillon, or a noodle soup out of the box / ramen).< /p>

All non-ferrous (non-metal) vessels can be used, e.g. your mug/bowl/pot can consist of:

- glass

- plastic

- ceramic

- porcelain

- Paper

- Wood

Make sure that the vessel is able to maintain the temperature or use the soft mode because the pane sometimes gets hotter than 100°C. Some cups are e.g. B. not intended for boiling (100°C) water. If you have a metal cup or container with metal parts, do not use it on the Heatle unless it is officially Heatle Certified. It can be dangerous because it heats even the handle and doesn't regulate the temperature.
How long does it take for a cup/litre? maximum amount?

The time it takes the Heatle to heat the liquid mainly depends on the vessel (bottom thickness) and the amount of liquid. For example, Heatle can boil 250ml of water in a thin-bottomed cup in just under a minute, a liter in 3-5 minutes depending on the vessel and the size of the heating disc.

1.5 liters is the maximum capacity we recommend, as long as your vessel supports that volume. Please note that Heatle is designed for quick heating of single servings, which is the main need for most of us. Heatle needs a breather when you heat too much too many times in a row.
Will the rod work on my induction cooker?

There is no existing induction hob that can heat such small heating discs. That's why we developed our own technology and applied for a patent. So you need our base to heat small metal bodies.
Does Heatle work automatically or do I have to be there?

You don't have to hold the rod, just set your desired result and move on to more important things. The Heatle stops heating when it reaches the set temperature. There is an audible feedback/signal in the unit as well as push notifications in the future. However, with thicker/greasy liquids, stirring is recommended to avoid burning.
Can I keep warm or heat two cups at the same time?

Two cups at the same time is possible in the new Duo mode, which is also available in your Heatle. For this, please order a second rod including heating disc as an accessory. Heatle Duo works best with identical vessels and quantities.

Keep warm is currently under development and will be available soon, so also in your Heatle from this batch.

.
After use: filing and cleaning

The rod is not actively heated, it is heated by the liquid (just as the cup itself is heated by the water). The interchangeable pane is actively heated at the bottom. It is as hot as the liquid itself, i.e. up to 100°C. You can place it on any suitable surface, such as a plate, to cool it down. After 3-5 seconds under tap water, the pane is cool again. You can also attach the magnetic rod and disk to a metal surface to keep it away from children or the elderly if necessary. We recommend using the trays provided.

The heating discs are available in different sizes, they are magnetically removable and can be put in the dishwasher or cleaned by hand, depending on how dirty they are . The stick itself should not be put in the dishwasher, but can easily be cleaned by hand. In the future we will provide an individual cleaning solution to remove limescale and other stains (e.g. milk, tea).
App, Smart Home and integrated version (Heatle Inside)

You don't need a smartphone or an internet connection to use your Heatle. You can simply use the rotary knob and the integrated display to access all standard functions. Heatle does not have its own internet connection, but uses your smartphone as a gateway to get updates, maintenance or access to new features.

In the future we will offer ways to connect your Heatle to connect to existing smart home systems as well as voice assistants such as Google Home, Alexa/Echo, Siri, etc. Stay tuned for our upcoming IoT and API updates. In the beginning, the Heatle is an independent device.

The integrated version, which is installed directly in worktops or tables, will also be available soon, but only for specialist companies that also use it can install. As a consumer, you cannot obtain this solution directly from us.
About induction and electromagnetic radiation

Heatle is a miniature induction hob and has been tested and CE certified as such. If you are not allowed to be near electromagnetic fields or induction devices for medical reasons (e.g. pacemakers, pregnancy, etc.), treat the Heatle like other induction devices.

In contrast to microwaves, we work with induction, which in our case works with relatively small magnetic fields with a very limited range, which become exponentially weaker the further away they are from you. That's why your Heatle heats with less power when the bottom of the cup is thicker.
Questions about the company
We are a German limited liability company based in Berlin. We are backed by many renowned investors whose former start-ups you also know and love. We always work with maximum transparency and honesty. You can see for yourself by visiting us - at the office or at trade fairs. To book an appointment, use the corresponding function in the menu of our website. We look forward to seeing you!
Where is the Heatle made?

We currently produce in Berlin and you are welcome to visit our premises after making an appointment on our website. Some components logically come from abroad (like chips), but all electronics (PCBs, SMD, THT), software, assembly, quality assurance etc. are made in Berlin. The sustainable packaging as well as the printed manual come from Germany. The sustainable oak wood from the knob from the Baltic States.